TESLA STOCK FORECAST & Price Predictions 2021 - 2025 - 2030, 5 years, 10 years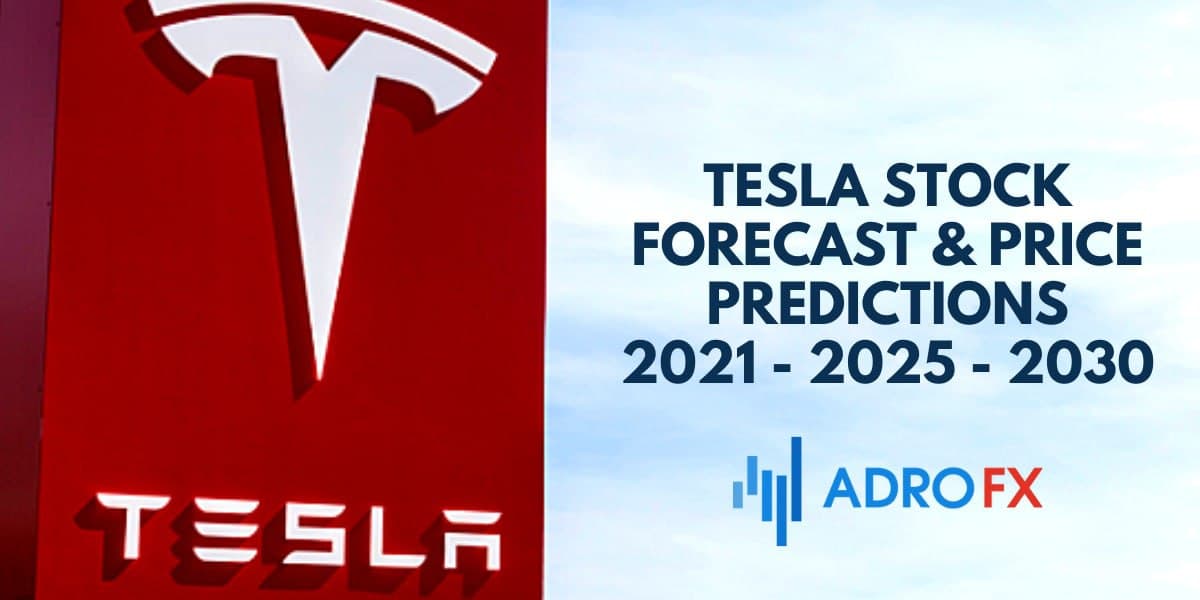 While most businesses worldwide have strived to withstand that crazy 2020, Tesla has been involved in making history. In less than 12 months, the electric car maker marked numerous achievements, with its stock soaring above $2,000 per share, undergoing a split, and being included in the S&P 500 Index.
So, considering the impressive results, some may be wondering what is in store for the company and what results investors should be expecting.
In this article, we will analyze the current state of the company, will see what the experts` predictions are, and will try to figure out what is going to happen to the Tesla stock within the next five or ten years.
Tesla`s background
The history of Tesla goes back to the period when the U.S. set the task of getting rid of dependence on hydrocarbons, including the improvement of alternative power sources for motor vehicles. And the creation of electric cars was one of the areas of research. Tesla was founded in 2003, but investor confidence, which led to an increase in investment attraction, manifested itself in 2013 - then mass production of electric cars began. Tesla began to show phenomenal growth from the second half of 2019.
After several years of losses, Tesla showed three consecutive profitable quarters (starting in the third quarter of 2019) and surprised investors with the stability of receiving orders in the first quarter of 2020, despite the outbreak of the virus.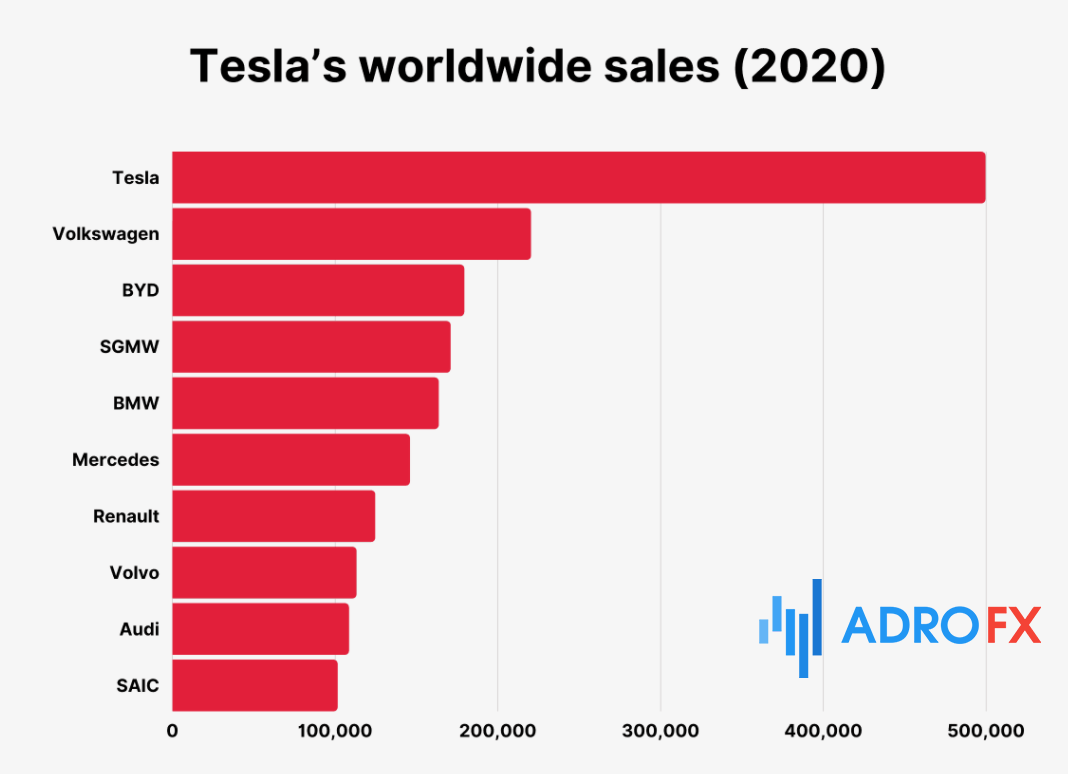 The company has often found itself at the center of lawsuits and disputes, in part because of (at times) outrageous behavior by Musk. One example of this occurred in August 2017, when he tweeted that he had solid funding to take the company private to the tune of $420. That claim later turned out to be false.
Thus, since the beginning of 2020, Tesla's share price has increased fivefold. According to several analysts, Tesla's rapid growth in value looks unnatural against the background of its relatively small number of tangible assets and the current state of the electric car market. For example, in 2019 the company's car sales were less than 4% of those of Volkswagen, the global leader in this indicator. In addition, the company has only four plants, and the concern Toyota motor has 50 plants. Morgan Stanley analyst Adam Jonas notes: "It might be worth reminding investors that battery-powered cars account for no more than 2% of global sales. In other words, about 98% of the world's cars are still powered by internal combustion engines." He gave Tesla an Underweight rating ("worse than the market") and a target price of $360 per share.
So, how did these events affect TSLA's stock price? We can see how its stock price has changed since that period in the chart below: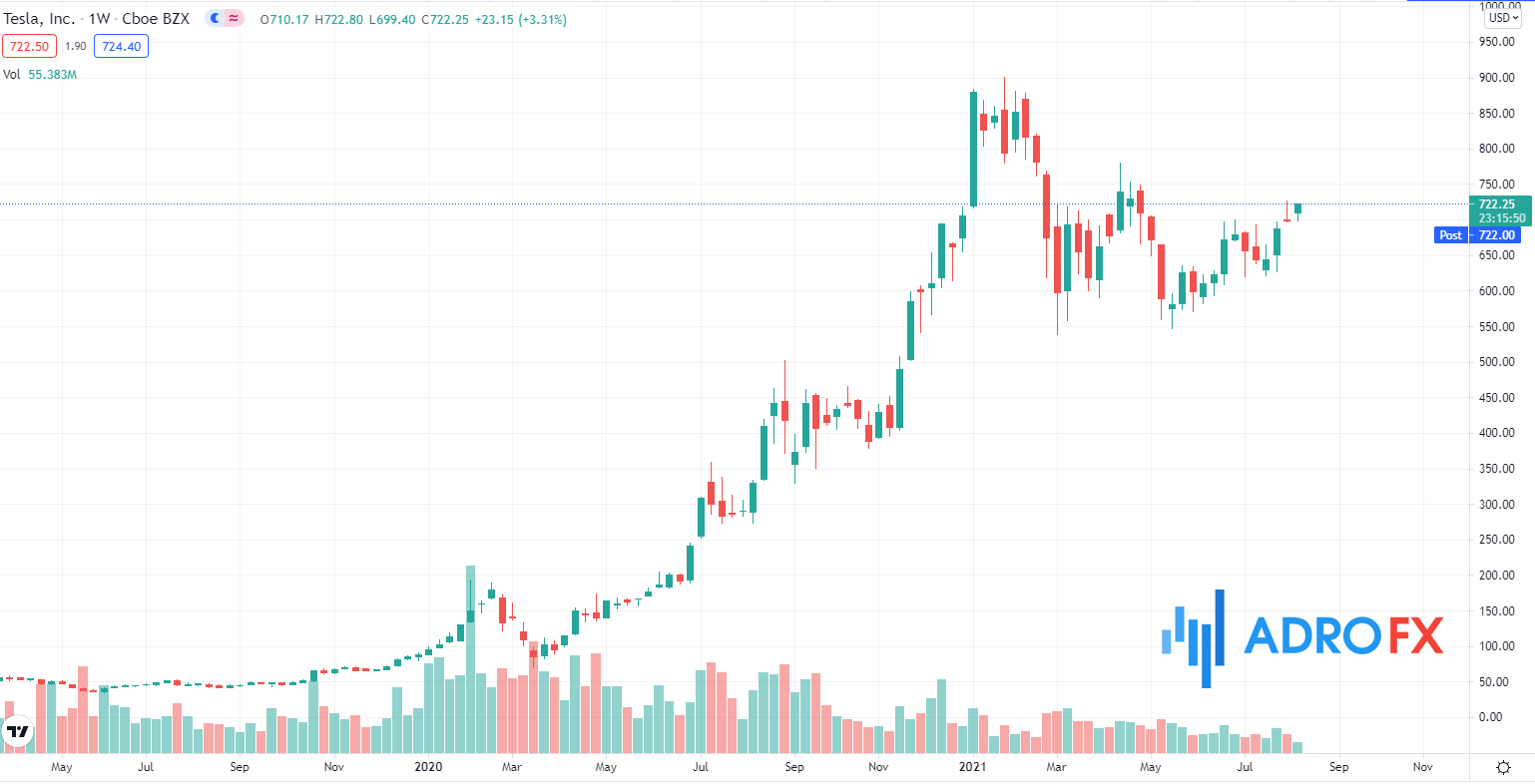 It shows how stratospheric Tesla's growth has been in 2020. Before this year, TSLA's stock price was only $70 - since then, that figure has jumped nearly 900% to $695. Tesla made more than $100 in December 2020 alone, opening at $584.76 at the beginning of the month and now trading at $695. It's a jump that has many investors and analysts wondering, "Is Tesla stock overpriced?"
For others, however, its success was a huge reassurance after the coronavirus crash back in March 2020. When investor uncertainty peaked in response to news of the COVID-19 outbreak sweeping the world, the stock market suffered one of the biggest collapses in history. The collapse began on March 9, 2020, when the Dow fell 7.79% in just one day.
Like most companies, TSLA was not immune to this collapse. Between March 6 and March 16, Tesla's stock price fell from $140,696 to $89,014, its lowest level in a year. The fact that it has recovered so much is the result of various factors:
Split of shares;
The introduction of Model 3;
The success of SpaceX.
No doubt, everybody knows that the CEO, ideological inspirer, and "face" of the company is Elon Reeve Musk. Unlike most executives of other automobile companies, Musk is a media persona, open to communication with the public and capable of extravagant actions and statements, which immediately become an occasion for publications in the media. Musk's impressive fame is a consequence of this image. And fame is one of the incentives for investor confidence.
However, at present, this trust is not primarily based on the media character. The company actively produces press events not only by loud fantastic statements of the "first-person" but thanks to achievements and real facts.
Musk has a solid background under his belt that has a lot to tell investors. His major milestones:
Creation of the first Internet payment system, PayPal;
The creation of the first private space company, SpaceX (May 30, 2020, was the first manned launch of a spacecraft, which was a proprietary development of the company, which first demonstrated the ability to automatically return to the launch pad after separating a stage from a rocket);
Creation of several more or less successful diversified companies (artificial intelligence, neuro-interfaces, solar energy, construction);
The transformation of the Tesla startup into the world's most famous electric and automatically piloted car manufacturing firm.
No doubt, these merits encouraged investors to tolerate the company's chronic unprofitability for many years.
Tesla Stock Price Today 

Tesla stock began 2021 with record growth - on January 4, the value of the company's securities surpassed the $800 per share mark for the first time and was at a high of $884.
The rise in Tesla stock by several hundred percentage points was due, in part, to investor confidence in Tesla's ability to increase vehicle sales and production in 2021. Those who have long invested in the company are still confident that Tesla will remain the leader in the growing electric car market, despite competition from traditional manufacturers, which are also slowly beginning to tread new waters.
Thus, in February, analyst firm Argus Research sharply raised its target for Tesla's stock from $556 to $808. So, it was a price that analysts considered fair for the electric car maker.
Tesla stock remained at a record high price for a few weeks, but the company had a correction in March as it plunged to $540 at the beginning of the month. By the end of May, they were worth no more than $650 on average. In May, the share price was negatively affected by an unexpected refusal of the company to accept bitcoin for payment and sales in China, which were worse than forecasts.
On July 26, Musk's company reported financial results for the second quarter of 2021. At the postmarket, the company's securities reacted with growth.
Let's consider the results of the report in more detail and see what is the current situation of the company.
Q2 revenue rose 98% YoY, from $6.03 billion to $11.95 billion. Regulatory loan sales decreased 17% to $354 million, about 3.5% of the company's total revenue.
GAAP net income rose 10-fold to $1.14 billion, and adjusted earnings per share were $1.45 compared to $0.44 a year earlier. Adjusted EBITDA increased by 106% to $2.48 bln. Free cash flow increased by 48% YoY to $619 mln. The results significantly exceeded analysts' average expectations.
Tesla reported revenue from the company's energy segment, which includes solar photovoltaic cells and home energy storage systems, rose 60% QoQ to $801 million.
Almost all sales in the electric car segment came from the Model 3/Y. Shipments of these models increased 121%. Tesla will begin production of the Cybertruck at a new plant in Texas in late 2021.
The company said it had received $951 million in service fees.
Tesla sees future revenue growth in the energy segment. With the transition to renewable energy, Musk said, there is likely demand for "more than a million Powerwall per year" - a battery developed by the company, which is designed to conserve energy for household use, load shifting consumption, and backup power.
Tesla's financial performance has improved significantly. A good signal is a decrease in the share of the revenue from the sale of regulatory credits. The company continues to increase the number of fast-charging stations and service stations. Tesla did not report earnings and EPS guidance for the year.
A 60% q-o-q increase in revenue in the energy segment could signal the start of more business diversification. GW energy storage capacity has doubled in the last year.
The company could generate as much as $25 billion in revenue annually if it opens up its refueling facilities to other electric vehicles. Tesla may soon have a significant share of its revenue coming from the energy generation and storage segment. It could be Musk's possible response to recent difficulties. 
Tesla will face high competition in this area from U.S. utilities and new startups, which have begun to actively seek to build networks of fast refueling stations across the country. Electric car sales are breaking records in the U.S. 
Should the U.S. government adopt an additional $3.5 trillion plan to invest in "human infrastructure," Tesla could become one of the beneficiaries of the government's decision.
Tesla Stock Price Forecast 2021-2022
Interesting fact - Elon Musk himself warned in early December about a possible collapse of the company's stock. In a letter sent to company employees, he wrote: "If you look at our actual profitability, it is very low - about 1% for the past year. Investors are hoping for our future profits, and if they decide we can't get them, our stock will immediately collapse - like a soufflé from a sledgehammer blow."
Let us refer to Tesla stock forecast Walletinvestor offers. The platform, which predicted a maximum price for Tesla stock in 2021 of $766,704, gave the following forecast for 2022: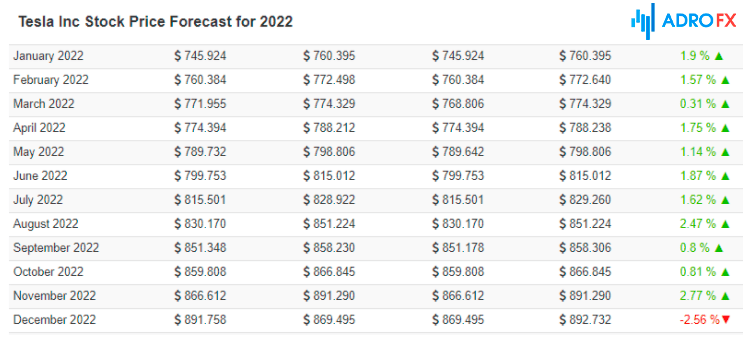 According to its predictions, Tesla's stock price will not reach $1,000 in 2022 and will continue to trade in the $870 to $970 range for most of 2023. However, it will rise to more than $1,000 very briefly in November and December.  WalletInvestor believes that TSLA will be able to defend its position more consistently in 2024 and 2025, with the stock price reaching $1,200 by July 2025. While this is less optimistic than forecasts from platforms like Long Forecast, which believe TSLA will reach $1,000 much sooner, it is showing a steady growth rate, which should reassure investors.
A more bearish forecast comes from LeoProphet.com. For exactlyTesla stock prediction 2022, LeoProphet.com predicts negative growth rates, with the stock price eventually ending the year at a disappointing $561. That would be an improvement over the November forecast, which is only $533.
Tesla Stock Forecast 2023-2027        
We could not but mention here one of the most optimistic Tesla stock price prediction 2025. Kathy Wood's Ark Invest fund predicts that Tesla's stock price will rise to $3,000 by 2025.
Based on the number of shares outstanding, at that price, Tesla would be worth nearly $3 trillion. That means the stock has about 347% upside.
And that's just the base-case scenario Ark Invest is considering. Under the optimistic scenario, the stock will rise to $4,000, and the capitalization of the electric carmaker will reach $4 trillion. Experts estimate the probability of such growth at 25%. The negative scenario, the probability of which the analysts also estimated at 25%, envisages that in 2025, the shares will cost $1500 or less.
The company predicts that Tesla will sell between 5 and 10 million cars in 2025 if capital efficiency improves. The company's revenues from electric vehicle sales will be between $234 billion and $367 billion by 2025. By comparison, nearly 500,000 Tesla electric cars were shipped worldwide in 2020, and the company had total revenues of $31.5 billion.
Ark Invest predicts that Elon Musk's company will be able to reduce the cost of electric cars from the current $50,000 to $36,000. The fund believes that Tesla will create an insurance business that will generate operating income from $23 billion to $100 billion by 2025, and with a 50% chance that it can refine autonomous driving technology and launch a Robo-taxi service.
The $3,000 target level on Tesla stock is well above all forecasts collected by Refinitiv. The maximum estimate among the 36 experts surveyed is $1200 per paper. The consensus forecast is $621.5 over the next year, which is about 7% below the current price.
Analysts also added Tesla's insurance business, which the company could launch in more states over the next few years (so far only available in California) at above-average margins thanks to the "very detailed driving data" the company collects.
The Ark model did not consider Tesla's energy storage activities or the fluctuations in the company's bitcoin holdings.
Tesla Stock Forecast 2028-2032        
Tesla's profits will grow through Full Self-Driving (FSD) subscription sales from $600 million in 2021 to $102 billion by 2032. That's according to reports from research firm Loup Funds.
Tesla has been working on a Full Self-Driving (FSD) autopilot for several years. The company aims to provide its customers with Level 5 autonomous driving. Currently, the U.S. electric car manufacturer recently launched a subscription option for FSD. It will be able to greatly expand its target market through monthly payments.
Subscribing to this system will shift the cost of a one-time payment from $10,000 to $200 per month. That will accelerate its adoption. According to Loup Funds, about 20 percent of Tesla owners will at least try out the feature, and about 3 percent will use it on a permanent basis. However, as the system develops over the next five years, those numbers will increase to 31% and 15%, and in ten years to 45% and 34%, respectively.
Tesla Stock Forecast: Price Predictions by Experts 

Tesla has never been free of skeptics, and many analysts believe its stock price is highly overvalued. Elon Musk himself agrees. In a leaked email to Tesla staff, the CEO warned that projections of skyrocketing stock prices are only achievable if the business manages to cut costs. With margins as low as 1 percent, he added, the stock price also depends on investor confidence: "If at some point they conclude [Tesla can't make a profit in the future], our stock will immediately profit. Crushed like a soufflé with a sledgehammer! ".
Let us look at different forecasts so we can understand the general outlook of the experts in terms of the future of Tesla.
According to Patrick Hummel, an analyst at Swiss bank UBS, Tesla remains the global leader in electric vehicles. However, the analyst maintained a "neutral" rating and lowered his target price on Tesla stock from $730 to $660.  As a result, Tesla stock fell on the news.
There are two main reasons for the decline: increased competition and global problems with the supply of chips.
Hummel believes that it is the competitors that will affect Tesla's share price in the short term, especially in the largest electric car market in the world, China.
Tesla has already had to reduce the price of its cars in the Middle Kingdom several times to compete, which leads to a decrease in the company's gross profit in the region.
In addition, Tesla has faced reputational problems in China, and the latest misstep by the U.S. automaker was a recall of more than 285,000 cars in China because of safety concerns related to the cruise control function.
While the recall does not involve returning the cars, since the fixes will be done remotely via an online software update - this is not the news Tesla investors want to hear amid fierce competition in China.
Nonetheless, long-term investors should keep in mind that despite all the temporary difficulties, Tesla remains the "undisputed leader" in UBS's electric car stock portfolio.
Analysts at the investment company Wedbush believe that the shares of the company of American businessman Elon Musk - Tesla - is open to the growth of up to $1 thousand.
One of the drivers of the company's growth, according to analysts, was its inclusion in the S & P 500 index. The new position allowed Tesla to enter the "club" of blue chips. The changes, analysts believe, strengthened the company's position in the eyes of institutional investors.
Also, Wedbush paid attention to the potential of Tesla's business development. According to their calculations, there is a growing demand for electric cars in the world. Now, their share of sales in the market is 3%. By 2025, according to analysts, the figure may increase to 10%. Wedbush believes that China's share of Tesla's orders could rise to 40%.
The interest in the company's products from the PRC, according to analysts, will also be an important driver of the growth of the manufacturer's shares.
Another item that could become a support for the positive dynamics of prices for the securities of Tesla, according to Wedbush, is the victory of Joe Biden in the presidential elections in America. The fact is that his election program included work on improving environmental performance. Tesla electric cars are up to the task.
Jefferies analysts upgraded the stock rating, predicting a 22% gain over the next 12 months, noting that the electric carmaker continues to prove it is a leader and innovator in the mass market for electric cars and batteries.
In a research report for Jefferies clients, analyst Philippe Houchois and his team upgraded Tesla stock to a "Buy" rating from "Hold" and an estimate of its target price to $850/pc. from $700 on expectations that automakers, in general, could improve their margins as they operate with smaller, but better-allocated capital.
Specifically for Tesla, Houchois and his team said they expect the pioneer in promoting electric cars, led by its CEO, Elon Musk, to benefit compared to other automakers entering the electric-car game because of the "lack of legacy issues" and continued growth in demand for electric vehicles.
According to Houchois, dealer inventory recovery will be the first test for companies, while less product complexity and higher direct sales will be future drivers for structurally better industry profitability.
Basically, as we can see from the Tesla stock price forecast 2021 and further, analysts are more than optimistic about the company's prospects despite the increasing number of rivals and unclear epidemiological situation in the world.
Risks of buying Tesla stock
Let's look at the factors that could cause a significant pullback in quotes.
Market declines caused by the economic crisis, and the coronavirus pandemic could affect Tesla stock, which is now virtually the only driver of growth in the U.S. market. But even such a leading company may not survive the impact of the global crisis.
Although Tesla has been successful in developing new technology, the result may not be as impressive. What if the promised full autopilot technology isn't introduced by the end of 2021, or the super-efficient battery packs aren't created by Tesla but by Lucid Motors, for example? Porsche, Ford, and General Motors are zealous for Tesla's success. The up-and-coming Nicola Motor is preparing an electric truck for mass production. Amazon CEO Jeff Bezos is also interested in creating an original electric car. Volkswagen is launching its brand of electric cars in 2020. "It's a race, Volkswagen CEO Herbert Diess told Bloomberg at the Davos Forum. - We're confident we can keep up with Tesla, and at some point, even overtake it." Research firm Wood Mackenzie predicts that Volkswagen will overtake Musk's firm by 2028.
The superiority of detractors
Comparing Tesla and Toyota, some may say that despite the difference in development dynamics, Toyota outperforms Tesla in many ways (objectively Tesla is a small company). There are plenty of giants with great capabilities in the market for internal combustion engines. We also cannot rule out the lobbying activities of oil tycoons and the realization of the interests of political circles of entire countries (for example, Russia and the UAE). These very heterogeneous and even hostile to each other forces may well join forces for the "final solution of the Tesla problem".
Elon Musk himself, despite his consistency in pursuing his goals, has not always looked trustworthy enough from an investor's point of view. He once sold the PayPal payment system, so why can't he think of selling Tesla as well?
Tesla Stock Technical Analysis 
During last week, the shares were up 1.7%. Tesla said it would open its charging network for other brands of electric cars in the U.S. as part of President Joe Biden's infrastructure project. It will allow access to funding as part of the project. Interestingly, representatives from Elon Musk's company were not invited to a meeting on the electrification of cars, which the U.S. president held last week.
On Sunday, Tesla officially confirmed that the production and delivery of the Cybertruck model will be postponed until 2022. The company has previously warned about this possibility more than once.
Tesla stock prediction: at the beginning of the week, a slight rise and then a decline in the share price to $685 is most likely. If the stock fails to hold that level, it will continue falling to $665. We may speak about the possible formation of a growth wave if the price comes back above $716.
The consolidation scenario within the range of $680-710 is a priority for the coming week. In the case of Tesla, any corporate news can lead to a revision of the forecast.
The consensus forecast from Refinitiv analysts on Tesla stock is at $711 per share, up 2% from the last closing price.
What Is the Future Price of Tesla Stocks?     
Market Watch, citing Fact Set, notes that only 42 percent of analysts advise buying Tesla stock. At the same time, Tesla's competitor, China's Nio, has 65 percent. Analysts also believe that Tesla stock will be trading at $699 shortly. That is, more or less at the same level at which they are trading now.
Other data is cited by CNN. Based on the forecasts of 33 analysts, the channel derived a median value of Tesla stock for the next 12 months at $730. At that, the most optimistic forecast of the experts says that Tesla shares will skyrocket to $1.4 thousand, while the most pessimistic one says that Tesla's share price will fall to $67. However, most experts advise buying shares of Musk's company.
Wall Street Zen also has a similar Tesla stock prediction 2025 based on the opinion of 26 experts. They also believe Tesla stock is worth buying.
Even leaving behind all these investment aspects, we can say that Tesla`s popularity is growing exponentially, not only among traders and investors. So, Tesla stock prediction 2025 can be nothing but positive.
Are Tesla Stocks a Good Investment?

Tesla's position among competitors remains quite strong. The market capitalization of Elon Musk's company exceeds $600 billion. As Market Watch notes, this is more than all of its closest competitors combined. By comparison, Volkswagen's market capitalization is about $130 billion, and, for example, Toyota's is just under $240 billion.
The company's production is growing. Tesla reached 500,000 cars a year in 2020, and it produced 185,000 electric cars in the first quarter of 2021 - twice as many as it did in the same period in 2020. At the same time, the company's plants in the U.S. and China can potentially produce more than a million cars a year, which means there's still room to spare. Plus, the company is building plants near Berlin and in Texas.
The company also announced in late April that its Model 3 had become the world's best-selling premium sedan, overtaking the respective BMW and Mercedes models.
The company is more than confident about its future. In a call with investors in March, for example, Tesla said it expects a 50 percent compound annual growth rate in the supply of its cars, in which case by 2030 the company will be shipping 40 times as many electric cars as it does now. Whether such a plan is achievable is not yet very clear.
On the other hand, some advise against buying shares of this company. Some experts believe that Tesla will be affected by the lack of chips, which, according to some forecasts, may last until 2022. Yes, Elon Musk reassured investors in early April on his Twitter account, thanking suppliers for supplying "critical" components for production. But how long this favorable situation will last for the company is the question.
In addition, the current drop in the value of Tesla shares may indicate that investors are no longer willing to turn a blind eye to losses and other "chronic" problems of the company.
The company's critics point out that Tesla did not end any year of its existence without a loss, and the money the manufacturer earns from selling cars is not enough to cover costs. Other complaints are that the company fails to deliver cars within the specified time frame, and Tesla itself is highly overvalued, which makes its position very shaky.
It partly explains the sharp change in the share price. However, it can also be explained by the relative waning of the coronavirus pandemic and the return of the global economy to life. In this regard, investors are beginning to invest not in IT companies, but in more "cyclical" businesses that depend on the macroeconomic situation.
About AdroFx        
Being a well-established brokerage company, AdroFx offers the best trading conditions to its clients from 200 countries. Founded by experts with a couple of decades of the overall experience, AdroFx is one of the best platforms on the market for shares trading. Either a newbie or experienced trader, both will find here what they are looking for since the company provides various trading accounts for different trading styles and goals.