Litecoin Price Prediction 2021 - 2025 - 2030 and Beyond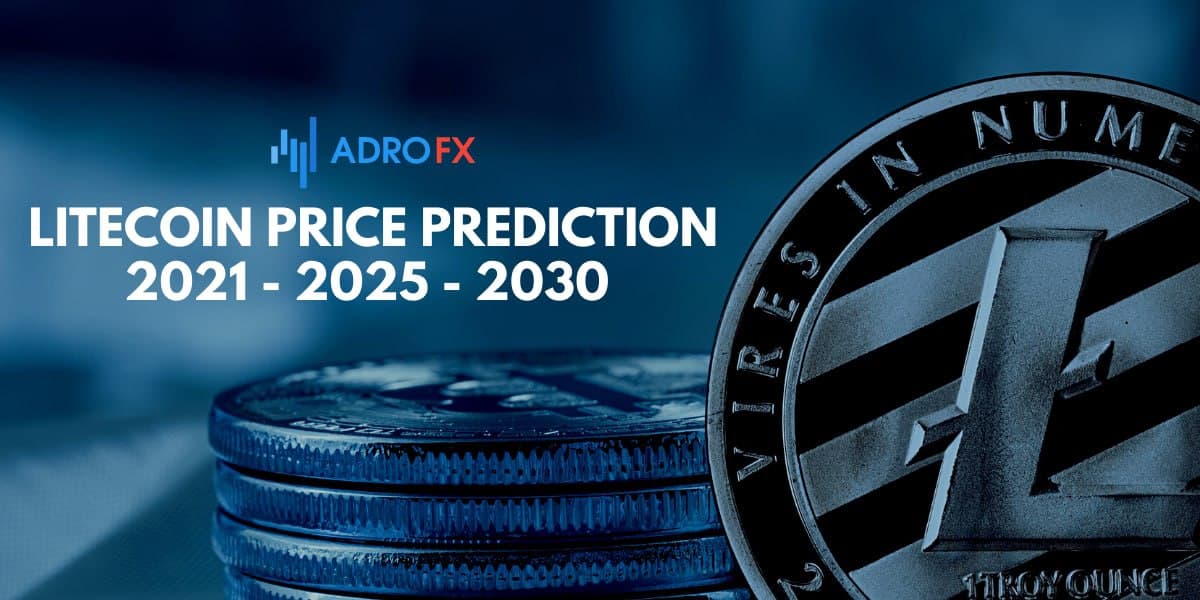 With the growing popularity of bitcoin, cryptocurrencies are no longer in doubt. It is an interesting field, in which you can increase your capital significantly. Undoubtedly, it is possible to earn good money here. Investments in cryptocurrency can become both passive and basic earnings. Also, you should not forget the fact that the crypto industry is thousands of digital coins. Choosing an asset that would be promising is sometimes difficult even for experts. It is necessary to take into account many factors that shape the rate of cryptocurrencies.
In this article, we will provide an insight into the background of one of the most prospective altcoins, will discuss some of the Litecoin predictions, as well as will try to find out what could Litecoin be worth in 10 years.
A Bit of Litecoin History
Litecoin is a major part of the cryptocurrency industry. The coin has been around for more than 8 years, and it has managed to maintain success for almost the entire time. However, recent market fluctuations have seriously and negatively affected Llitecoin's price: the value of the coin dropped almost 5 times in 2018. Nevertheless, it seems that this drop has made LTC an ideal asset to invest in and profit from in 2020-2021.
Litecoin is one of the first Bitcoin forks. It was developed by Charlie Lee and was introduced on GitHub on October 7, 2011, with open source. The coin was developed as a faster and more scalable alternative to Bitcoin. Litecoin is very similar to its predecessor but has some significant differences. Because the coin was designed as a "lightweight" alternative to Bitcoin, it has undergone some changes in favor of increased speed and availability.
Here are some of the differences between Litecoin and Bitcoin:
Reduced block generation time (from 10 minutes for Bitcoin to 2.5 for Litecoin);
Increased total supply of coins;
Different hashing algorithm (Scrypt instead of Sha-256 in Bitcoin);
Changed graphical user interface.
Litecoin is often referred to as a "silver" cryptocurrency with a reference to Bitcoin's "gold" status. At the time of this writing, Litecoin has a market capitalization of more than $11 billion, and the coin is ranked 11th in this criterion.
The coin rather quickly attracted the attention of the small but growing crypto-community of the time. However, after its launch its price remained rather low, averaging around $3.
Why Is Litecoin an Attractive Investment Asset?
Cryptocurrencies are liquid and speculative assets, which makes them attractive to investors. Not surprisingly, over the past couple of years, the crypto industry has attracted investment funds and then large companies. For example, Tesla announced a $1.5 billion purchase of BTC earlier this year. Fintech company Square invested $170 million in bitcoin in February, and Twitter and Facebook have expressed interest in cryptocurrency.
While investment funds use cryptocurrency as a speculative tool, for large companies Litecoin is more of a savings tool and an alternative to traditional assets. There are at least three reasons for this trend:
The pandemic forced the world's largest central banks to take unprecedented measures to stimulate the economy and dramatically increase money issuance. This decision helped to stabilize the situation and avoid a global economic collapse, but at the same time, it led to an accelerated devaluation. Moreover, the issued capital rushed into the stock markets. Analysts point out that a bubble has already formed in the stock market, which can burst at any time. As money continues to depreciate and yields on deposits and bonds are near zero, businesses are forced to look for alternatives in the crypto market.
Unlike traditional assets, Litecoin is decentralized. Accordingly, even if a business has problems, the company will be able to keep some of its assets - unlike a bank account, a cryptocurrency wallet cannot be frozen. Moreover, if the monetary policy of the world's leading central banks fails, some countries may default or hyperinflation - in which case traditional assets will come under attack.
Despite the common misconception that Litecoin (and other cryptocurrencies) is a bubble, big business, and institutional investors have been unable to inflate it because they have only recently begun to cautiously explore the crypto market. Many were waiting for it to gain traction. For example, Black Rock, a major investment fund with more than $9 trillion under management, was waiting for the crypto market to grow to $2 trillion because a lower capitalization made it easier to manipulate the price. Recall that the market capitalization of the cryptocurrency market has only recently exceeded this mark. The fund continues to monitor the dynamics and may be investing in Litecoin shortly.
Litecoin has several other advantages over traditional assets. For example, a notional $10 million in LTC can be transferred to the other side of the world within a few seconds by paying a few cents transaction fees. A similar transaction with fiat money is unlikely to happen as quickly.
What could affect the LTC exchange rate

To better understand the Litecoin predictions and how high can Litecoin go, we should get the idea of what actually affects this altcoin.
Litecoin's blockchain runs on the PoW (proof-of-work) protocol. On average, it takes about 2.5 minutes to generate a new block - that's 4 times faster than Bitcoin. LTC mining is considered more profitable and attracts a lot of new miners.
Halving always has an impact on the cryptocurrency's exchange rate. The outlook can be both short-term and long-term. The last halving of Litecoin took place on August 5, 2019. The next halving will take place in 2023 - the reward for each new block will drop to 6.25 LTC.
News from the developers;
The announcement of significant updates, the release of new services, or news about the development of the platform can significantly affect the value of Litecoin. Technical news usually has a positive effect on the dynamics of the price, provoking the growth of LTC against the dollar.
The next update to MimbleWimble is aimed at improving the scalability of the network and increasing the privacy of the token: the protocol will add the ability to conduct transactions anonymously at will.
ETC Group, headquartered in London, recently announced the addition of its Litecoin-based physical exchange product (ETP) to the Xetra electronic trading platform. According to a source, the instrument under the ticker ELTC was launched on April 14. The management fee is 2%.
Litecoin has its own foundation, the Litecoin Foundation. Their main goal is to increase user interest in Litecoin and spread the cryptocurrency. The Litecoin Foundation is unique in many ways - as they are not only engaged in partnerships with crypto-financial organizations but also give cultural development to the project. The Litecoin Foundation sponsors UFC fights and the San Diego International Film Festival, and they also work with Atari (a computer game development company).
Litecoin Price Predictions for 2021 by Crypto Experts
The first few months of 2021 have been especially encouraging for LTC. It started rising, reaching $236 on February 19, then fell to $165 on February 28.
However, Litecoin still had time and room to grow. On March 30, Litecoin started being accepted into PayPal - it was a real party of cryptocurrency debutants. Its value began to rise. On March 30, it was $195.73, and on April 16, it was $311.95, up almost 63% in three weeks.
There was a drop shortly after that, with Litecoin dropping to $233.75 on April 25, but things began to improve again. It broke the $400 barrier on May 10, and although it fell slightly to the $385 mark on May 12, it was pretty stable. It was the case until the great cryptocurrency crash of May 19, 2021, when its value dropped more than 40% to $156.96 in a few hours.
Detailed predictions for Litecoin showed that it could reach $247.48 this year. LTC could reach $305.49 a year from now and could continue to rise over time, with Litecoin's future price at $509.18 in 2025 and $777.29 in seven years.
Litecoin is still a good investment. It won't lose its relevance over the next 4-5 years, and its value could grow to $300-400. These predictions for Litecoin promise good profits for those who have already invested in LTC or plan to buy it shortly, while the rate has not yet begun to actively grow. Now let's look at Litecoin price forecasts from leading forecasting resources.
As per Longforecast, this year, the average price of LTC will be $200.
Litecoin's value will increase as DigitalCoinPrice promises. In the long term, Litecoin will gain strength again but is unlikely to catch up to Bitcoin.
So what is in store for Litecoin shortly? Currently, there is no concrete consensus on this question. Some are skeptical about the first generation of coins, considering them a relic of the past without any market perspective. Others, on the other hand, believe in the optimistic future of this altcoin.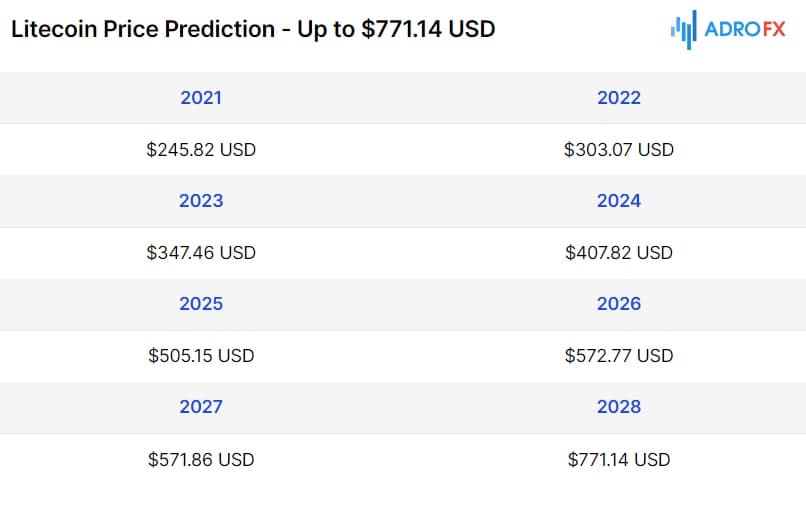 According to TradingBeasts, the coin will repeat the success of 2019.
Despite the rosy outlook, there is some uncertainty about the outlook for 2021. A factor that could have a huge impact on the price of Litecoin, as well as all other cryptocurrencies, is government regulation, especially in countries such as the U.S., China, and Japan. The best example is the fall of the entire digital currency market after China banned Bitcoin last year.
Naturally, one wonders to what extent governments will be able to influence Bitcoin transactions. Be that as it may, one of the main advantages of all cryptocurrencies is their decentralized nature. However, it does not mean that Litecoin is not subject to legal regulation. For example, if a country's government decides to ban any company from receiving payments in Litecoins, it will undoubtedly harm the currency's exchange rate.
In addition, governments can prohibit the operation of cryptocurrency exchanges, as was done in China, or the import and manufacture of ASIC devices and other equipment needed for mining. The point is that global governments are not as helpless in this area as they may seem at first glance.
Litecoin Technical Analysis
The overall market price structure is still bearish, as we have seen two strong waves of decline in recent months. After LTC peaked at $411 on May 10, the market quickly lost more than 50 percent until support was found around $110. Litecoin then consolidated for several weeks and recovered some of its losses with a lower high set at $190 on August 16. Litecoin later fell again and set a low above $160.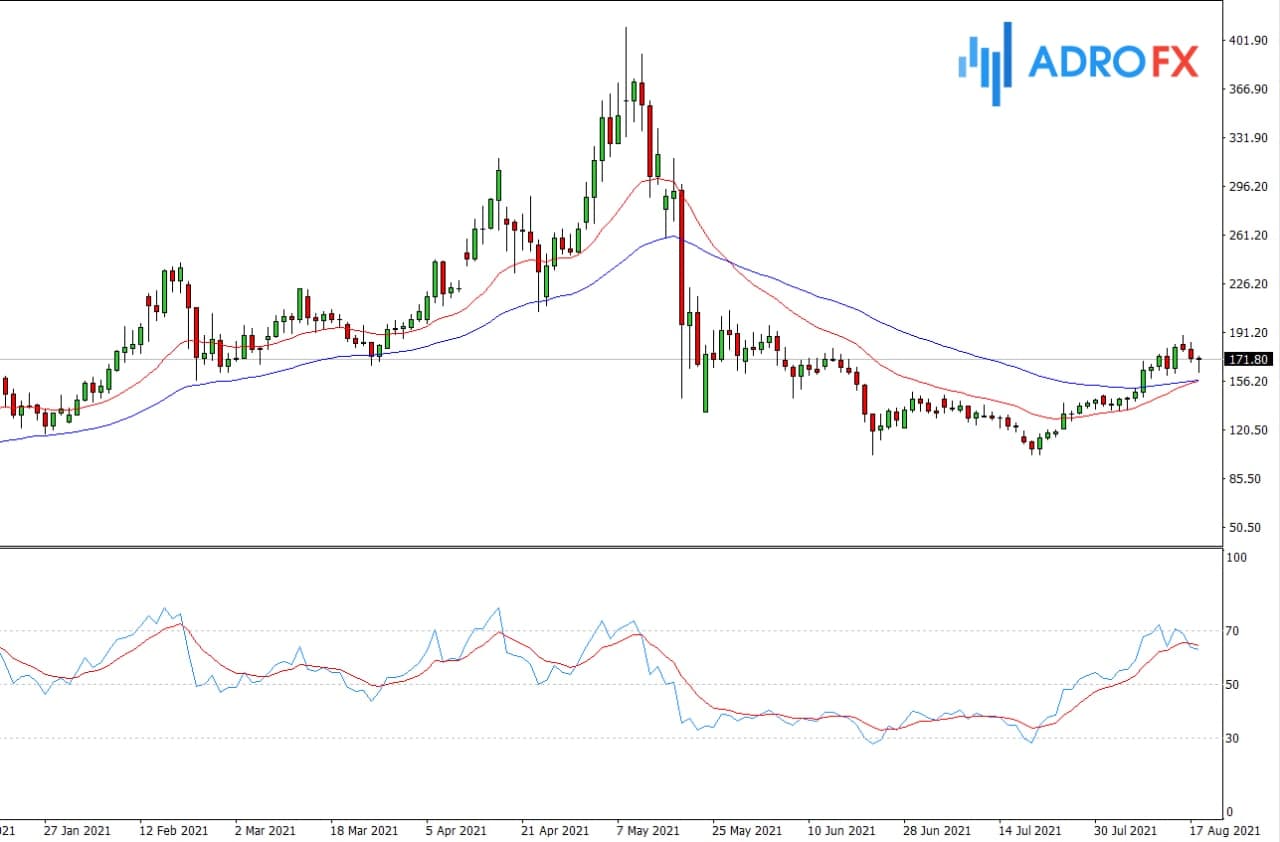 Litecoin established support near $160, followed by another consolidation for more than 24 hours. Late last week, LTC / USD rose sharply and quickly deflected past declines. This price action led to a strong upward push in the following days until resistance was met at around $187.
Over the past 24 hours, Litecoin has consolidated below $187 resistance, indicating that the bullish momentum is exhausted, and we are likely to see another decline later this week. The first major support level is around $110. If Litecoin can establish a higher low near support at $160, expect to see further gains towards $190 later this week.
Alternatively, if LTC / USD drops below $160, we expect the market to retest $110 support in the following days. If it fails to hold, LTC will see further bearish momentum in the coming weeks.
Litecoin Price Prediction for 2022
It is for this period that we expect a similar surge to the one we had in mid-2021. It will be similar, but not the same. Institutional investors will not let the market go that high. By 2022, however, there will be enough accumulated potential, both technological and trading, for a good jump.

Litecoin has all the technical capacity it needs to create high competition for Bitcoin and increase its market share. LTC is referred to by many as an undervalued currency, but that only plays to the coin's advantage as it allows it to unlock its full potential in the future. LTC was created as a convenient tool for payments for goods and services, not as an asset for capital preservation and growth. It is this function that will allow Litecoin to survive and become that mechanism, through which everyone will be able to understand what is the same money for everyone.
Litecoin Price Prediction for 2023
Litecoin is slowly but steadily obtaining more traction among cryptocurrency supporters for one good reason: it's a secure payment method. It proposes excellent speed at very affordable fees, making it a perfect option for processing payments around the globe.
Logically, the predictions for Litecoin for 2023 will depend on the level of adoption this coin has gained by that time.
The experts' predictions for Litecoin aims at a $900 price level. Nevertheless, it doesn't mean it will be a steady increase. Volatility is expected to remain high, possibly creating several bearish cycles until LTC gets to the expected price level.
Long-Term Litecoin Price Prediction: 2025-2030

Most experts and analysts do not make long-term forecasts, because cryptocurrency rates can be influenced by various factors. For example, in 2020-2021, the rates of Bitcoin and many cryptocurrencies were actively corrected under the influence of the statements of Influencers.
Despite this, analysts at CoinPriceForecast suggested that in 2030, the LTC exchange rate could be $576 in the middle of the year and $603 in the end.
Predictions for Litecoin
by CoinPriceForecast for 2030
Litecoin's price will probably rise from $374.59 to $617.41, which is +60%. The 2026 coin will start at $385.39, then soar to $410.17 for the first half of the year and reach $434.78 by 2030.
There is only one thing we can say for sure - we can expect more LTC price increase in case the Bitcoin network faces additional difficulties because the existing scaling problem is still not completely solved. And even despite the high level of security of Etherium or the ease of use of XRP, it is Litecoin that is perceived as the main successor to Bitcoin.
The numbers can be quite controversial, as LightCoin founder Charlie Lee once said:
"Price predictions for Litecoin are nonsense because no one knows anything. Just self-delusion."
How Has the Price of Litecoin Changed Over Time?
As we have mentioned, the value of Litecoin has long held steady at around $2 per unit. Some factors, such as high transaction speeds (relative to Bitcoin), large issuance, and a different mining algorithm, influenced user interest in LTC. At the end of 2013, thanks to public attention, Litecoin had a bull market waiting to happen - the first tangible rise in value to $53.05 happened on November 28, 2013.
As usual, this surge was followed by a correction in value, accelerated by the Mt. Gox hack in 2014. By the end of that year, the price of Litecoin had returned to the $2 per unit mark. Several small rises in 2015 failed to bring LTC above $7.5, and the price was stuck at the same level for a while.
The period of keeping the LTC price at $3 lasted almost two years. Only by March 2017 did the currency experience a second bull market, with the value already at $91.03 by September 2. As it turned out, that wasn't the end of the rise, and on December 19, 2017, Litecoin reached a historical high (for those years) of $375.29 per 1 LTC.
And, like a few years earlier, the sharp rise required a value correction, which continued for Litecoin for almost all of 2018. By the end of the year, LTC was trading at $31.37 per unit.
Another bull market for Litecoin was expected in 2019, mostly due to the upcoming halving (cutting miners' fees in half). Already at the end of June, the price was over $140 per LTC. But unfortunately, Litecoin didn't pick up bitcoin's post-halving trend, and by the end of the year, you could buy the currency for just $42.76.
The start of 2020 allowed Litecoin to gradually increase in value to double to $80 by February. Perhaps the growth rate of LTC would have continued, but the COVID-19 pandemic and the global economic crisis had a negative impact on the cryptocurrency market, and Litecoin's value dropped to $31.46. After that drop, the price gradually began to level off.
At the beginning of 2021, the price of Litecoin was $126.23. Already in January, the rate began to rise, renewing a record high in May - $412.96.
The sharp growth provoked a decrease, so at the moment of writing this article, the rate of LTC is about $172.
Is Litecoin a Good Investment?

Although Litecoin is experiencing some downward pressure caused by the bullish market after the pandemic and increased interest in cryptocurrencies, Litecoin remains relatively stable despite the ongoing pandemic, and investors are hopeful that the bullish growth will continue.
In fact, many experts believe Bitcoin's rise will have a positive impact on Litecoin, and investors are hopeful that BTC will reach new highs this year.
While it is up to you to decide whether Litecoin is a good investment, let's not forget that Litecoin is one of the most popular coins in terms of market capitalization.
Moreover, Litecoin could be the instrument of the future of online services and decentralized finance. As more and more online stores are beginning to accept the cryptocurrency, more and more investors may start investing in Litecoin.
After all, its rise in popularity is often a response to demand for LTC. Why? Simply because the cryptocurrency market is governed by the principles of supply and demand.
Interestingly, many wealthy investors are also turning to investing in LTC. Data shows that there are over 283 Litecoin addresses with LTC worth over $1 million each. NFL star Richard Sherman, for example, is one of the big investors who said he invested in Litecoin.
So, do you think Litecoin is a good investment? The answer is obvious.
Litecoin Price Predictions FAQ
Is it wise to invest in Litecoin?
Yes, investing in Litecoin is smart. Given Litecoin's technological potential and the significant return on investment that Litecoin can generate, investing in LTC can be prudent and profitable. At the same time, do not underestimate the volatility of the cryptocurrency market and always proceed with caution.
Could Litecoin be a better investment than Bitcoin?
Although Litecoin is often compared to Bitcoin because both cryptocurrencies are closely related and influence each other, from a technical perspective, investing in Litecoin may be a better investment. Simply because LTC transactions will be validated four times faster than BTC transactions, which also means lower transaction fees for buying and selling LTC. Nevertheless, Bitcoin is still the most popular and most traded coin in terms of market capitalization.
Is it worth investing in LTC?
Yes, it is worth investing in LTC. Litecoin has proven time and time again to be a worthy investment. Given various technical signals and fundamentals, many experts believe that Litecoin will enter a bullish uptrend, which makes investing in Litecoin more than worthwhile.
What could Litecoin be worth in 10 years?
DigitalCoin's forecast claims it will reach $505 by 2025, while the CryptoInfobase predictions for Litecoin say it could reach $950 by the end of that year. As with everything, it's best to do your own research and never invest more than you can afford to lose.
How much will LTC be worth in 2025?
Various analysts and experts believe that LTC cryptocurrency could be worth $399.16 to $775.5 in 2025.
About AdroFx
Adrofx is an online CFD broker that offers tailored trading features, competitive conditions, and a robust WebTrader platform, Allpips. The AdroFx brand is aiming to deliver excellence which is evident in the services they provide.