How Forex Affiliate Programs Work (and How They Can Benefit You)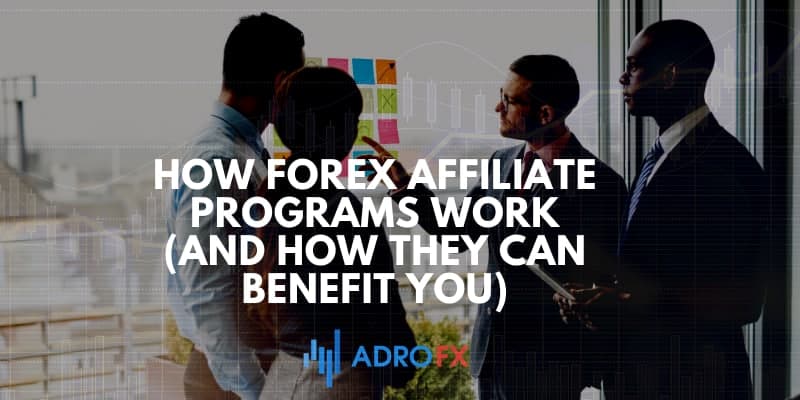 Probably we won't reveal a secret if we say that forex affiliate programs are the most highly advantageous and working affiliate programs on the Internet. And if you find a broker with a multi-level affiliate program like in network marketing, you will be able to get a percentage of your clients' trading for a long time!
At the moment almost all brokers of the Forex market offer to earn by advertising their services to all interested people on the Internet.
There are a lot of affiliate programs for Forex in the network. And undoubtedly, if you choose the right Forex affiliate program, it is beneficial and lucrative. But are they all good and will they bring you any return? No, not all Forex affiliate programs are good and financially potential. And now we are going to consider this question in more detail, learning different types of forex partnership programs and the criteria of choosing the best forex affiliate networks.
How Forex Affiliate Programs Work (and How They Can Benefit You)
Forex partnership program is one of the most popular ways of earning online, information cooperation between the organization promoting on the Internet any goods or services, and its partners - individuals or legal entities: you expand the client base of the company (in our case it is a Forex broker) and get a partner commission.
It is important to know: you do not risk anything and you can always terminate partnership relations with the company you are promoting on the Internet within the frames of a definite forex partnership program.
The algorithm is always approximately as follows: a person registers on the forex broker's site, agrees with the offer and the affiliate regulations there, receives promotional materials, and starts to promote the company services - becomes a partner attracting referrals.
But why forex partnership programs are one of the most interesting:
decent pay: retail forex is a serious industry with a huge capital turnover, and one broker's affiliate program can monetize your traffic like no other affiliate program;
passive income: even if you terminate your partnership, the reward will come as long as your referrals are active;
Still, no one says it will be easy: forex affiliate networks are all about the competitive environment. Only professional market participants survive here (traders and analysts, due to the expert content) or webmasters (due to SEO). But it does not mean that the rest of the market has no chance: the main thing is to find your niche and work in it.
What Kind of Forex Affiliate Programs Are Out There?
You capitalize on an affiliate program in many different ways, depending on what you are getting paid for in the first place. Each broker sets his own goals and offers partners a specific type of affiliate program with the appropriate conditions. Here are some of the possible options to work with. Have a look at all three and choose which one seems to be your perfect match.
Referral Programs
A referral program is a type of cooperation with a broker, which consists of receiving a reward from a representative for attracting new clients. Moreover, some big brokerage companies prefer to make partnership agreements with representatives, paying them for each new client instead of spending funds on advertising.
You may not be a talented trader, but if your recommendation made a client come to a particular company, you will be remunerated for this very brought client.
All you have to do is register and receive a special link. Each new client who indicated it during registration will be attached to you for the whole period of work with this very company. Thus, the commission is credited to the partner in case of opening an account simply by clicking his link, and for the partner to receive the commission, the sub-partner does not need to specify anything additionally, as everything is done automatically.
Your commissions will be counted in tens of dollars for every client you refer to the company. If you want to get more, it is worth turning to more resource-intensive affiliate programs.
Of course, it happens so that the partner does not succeed, he does not know where and how to place the referral link, referrals do not come and the partner gives up. Thus, he gets nothing, and the broker is also at a loss. To prevent this from happening, you need to know where to place the link.
For example:
in social networks;
on a blog;
on your Youtube channel;
on a thematic forum;
on your site (the site must be related to Forex! On a site about fishing, a seasoned fisherman seeking some better gear is unlikely to be interested in trading).
Don't put your referral link anywhere. Come up with a nice description for the company you represent. It should not be too long, but it must be intriguing. Be creative.
Forex Affiliate Programs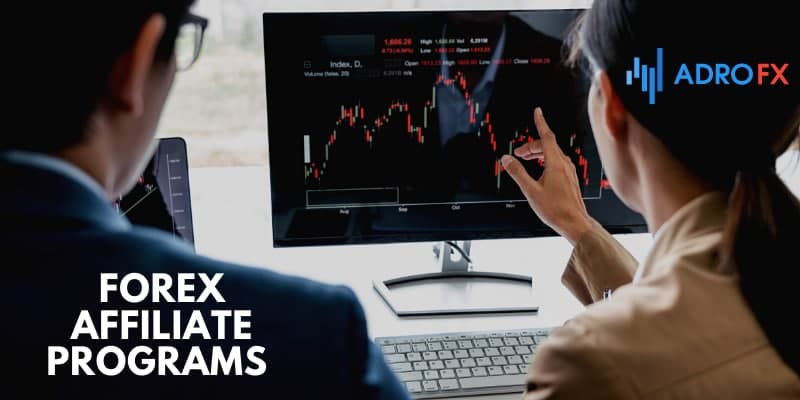 The best candidate for such a business is the owner of a large website, a community, a channel, or any other media, preferably dedicated to a specific topic - trading with a broker. This partner (can also be called IB - Introducing Broker) concludes an affiliate agreement with the brokerage company, and after that, each new participant, who got to the broker through an affiliate link, will bring return to the affiliate. In this case, the partner does not pay anything, all expenses are paid by the broker, because it is essential for the company to attract new clients. It is a very successful scheme of cooperation, because, as we know, the best deal in business is the one, in which all parties win.
As a rule, such forex affiliate programs contain elements of advertising of the company which provided you with an affiliate service. The range of possibilities here is enormous. You, as an affiliate, can be provided with:
an advertising link or banner to place on any of your sites or personal page in social networks;
possibility to create a special page in the social networks;
specialized content for your site: RSS news feeds, financial informers, videos.
The more voluminous and complex is the advertising which you are ready to manage, the more considerable is your reward from participation in forex affiliate program. Affiliate programs for the site can become both a convenient option for additional earnings and a full-fledged business of your own.
Of course, the reward for the payment to the partner is paid by the company from the spread of the attracted client. The broker gets new clients, the representative gets a monetary reward, the client gets additional services from the broker, for example, robots, advisors, access to scripts (by that the broker motivates users to use the services of representatives). For example, the clients of AdroFx get access to the different trading tools - forex news and blog, analysis of the current situation on the market from the leading experts, economic calendar, calculator, and other tools for successful forex trading. With all this at your fingertips, running your blog becomes much easier.
Perhaps in a few years, after you start, you'll be able to create your large online portal that promotes the best financial institutions. Returns can range from a few hundred to tens of thousand dollars a month - it all depends on your internet technology skills and how much of your time you're willing to spend.
White Label Partnerships
The White Label program differs from IB in that it allows you to open your own forex company and have your own brand, rather than referring clients to a broker. In essence, White Label is renting the trading platform of the main broker and providing services on behalf of your own company.
A White Label broker receives a complete solution, including a trading platform and back-office support, as well as the ability to operate under its own brand. Since a White Label broker earns from the trading volume of its clients, it operates similarly to a regular brokerage company.
In contrast to buying an expensive trading platform on your own, White Label is a much cheaper way to start a brokerage business. In addition, the forex solutions provider can often help with many things, from providing the latest technology, legal advice, creating a website, and developing marketing channels. Another benefit includes getting your online broker up and running quickly with the regular support, avoiding the expense of setting up and running a full-fledged business model that requires a license. A White Label broker gets hands-on experience in the business by running its own independent brokerage, working with its own clients. It is an effective way for a broker to diversify its revenue stream through licensing earnings.
White Label brokers conduct their business on a completely different scale than IBs. A White Label brokerage is a fully operational setup with its risk management, payment system (PSP), customer support, etc. White Label agreements can take many forms - from a simple trading platform lease and back-office support to a full-fledged enterprise with its brand. As for the payments, the broker receives a one-time payment from the partner and monthly deductions.
What to Look For in a Forex Affiliate Program
However, it is easier to attract clients to one company and harder to another, and the affiliate commission will be different. It is also important to know who exactly the partner is going to attract. So, choosing the most suitable referral program is the key to a successful and beneficial partnership. What should be an affiliate program in order to get the maximum gain out of it? There are three main points we would emphasize:
cooperation with a broker should be beneficial for clients;
cooperation with a broker should be beneficial for partners;
a broker should be " tailored" for the specific type of clients which will be attracted by the partner.
Choosing the right partnership program
Once you decide what forex affiliate program you want to work with, there are still hundreds of companies offering this type of partnership. So you need to know what factors to pay attention to in order to choose the best one:
The size of affiliate rewards. One of the most important things to pay attention to when choosing an affiliate. Probably, it does not need any comments.
 The frequency of partnership payouts. Different brokers allow their affiliate commission to be paid instantly after a referral "closes a deal", or very rarely, for example, once a month. Naturally, it is more convenient and pleasant to receive funds as often as possible. Besides, fast payments will protect you from the dishonest broker who will not pay affiliate commission after a month of hard work and the attraction of many clients. Availability of a multilevel referral system. Thanks to this you can attract other partners, thereby creating extensive forex affiliate networks, which in turn will significantly increase your yield. At a certain point, you can stop attracting referrals at all, because your sub-affiliates and their sub-affiliates will do it for you. We would say that having a multi-level referral system is a must when choosing an affiliate.
Bonuses and restrictions. Many companies give extra bonuses to their most active affiliates. Also, there may be all sorts of contests and drawings for prizes among partners. On the other hand, there may be significant restrictions in an affiliate, such as a non-payment of compensation, if, for a certain period, the partner was unable to attract a minimum number of clients or their total turnover was too small. All these things must be taken into consideration.
Is the trading platform a match for your referees?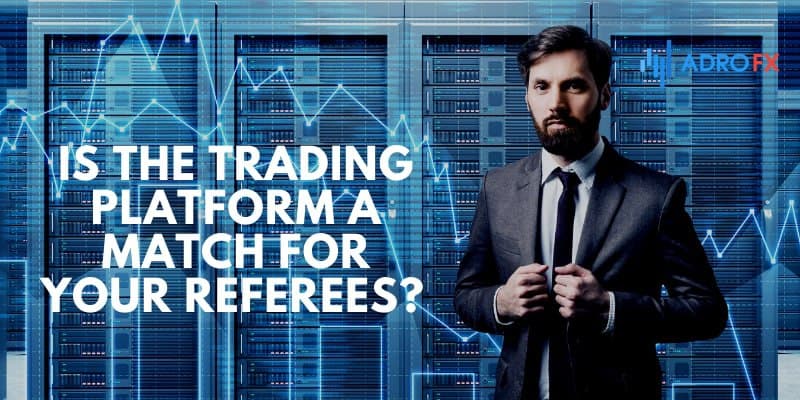 Choosing the best forex affiliate program is only half of your success. Another part of this puzzle is the proper broker you are going to work with - none of the rewards promised will comfort you in case nobody wants to trade with this broker. The best option here is to choose the company as the client - make sure it meets all the needs of a trader. Here are few moments to look at:
The maturity of the brokerage company. Agree that it's much easier to attract a trader to a well-known company than to a young one that appeared only last year. Therefore, it is easier to be a partner of such top brokers as AdroFx, because they are already well-known and can boast of a solid reputation.
Excellent trading conditions. It is not only about the spread or leverage. Quality of order execution is very important for traders: are there slippages at order opening, requotes, can the broker cancel a winning trade, etc. A client can find out about all that on forums or in brokers' ratings. That's why you, as a potential partner, should also read reviews about the company.
Minimum commission for deposit and withdrawal. This point is especially important for clients with a large deposit. That is why when choosing a company for cooperation it is recommended to estimate the commission amount for deposit/withdrawal of funds, and also if the broker carries out special offers like "0% commission for depositing to the account".
Availability of bonus programs and contests. Many traders are interested in promotions run by brokers, such as a deposit bonus or rebate. It can be a good way to attract referrals. The same can be said about trading contests.
Our Final Thoughts on Forex Affiliate Programs
A forex partnership program is an excellent way to optimize your operations and increase your revenue-generating possibilities. Of course, there are numerous aspects to consider when choosing an affiliate program that will make you as successful as can be and suit your referees. It is essential to choose a partner company that you think clients will like and continue to use. Indeed, without directing your audience to a decent company, you may lose trust from your followers and find it tough to get the same users in the future. So make sure to pick the best trading platform and treat this job as seriously as you can, otherwise, you will not be able to enjoy any of the fruits of your hard work.
About AdroFx
Being a well-established brokerage company, AdroFx offers the best trading conditions to its clients from 200 countries. Given the wide range of different accounts and trading instruments, including currencies, indices, stocks, metals, and cryptocurrencies, everyone will find here what he is looking for.
AdroFx offers a Rebate Per Lot partnership where commission lasts for a lifetime - as long as the referred client keeps trading. With the opportunity to choose from several plans, our partners can enjoy bountiful rewards and have access to marketing materials that will help you stand out from the crowd in a scurry affiliate world.
Start benefiting from AdroFx forex partnership programs – get on board now!