Amazon Stock Price Forecast 2021 - 2022 and Beyond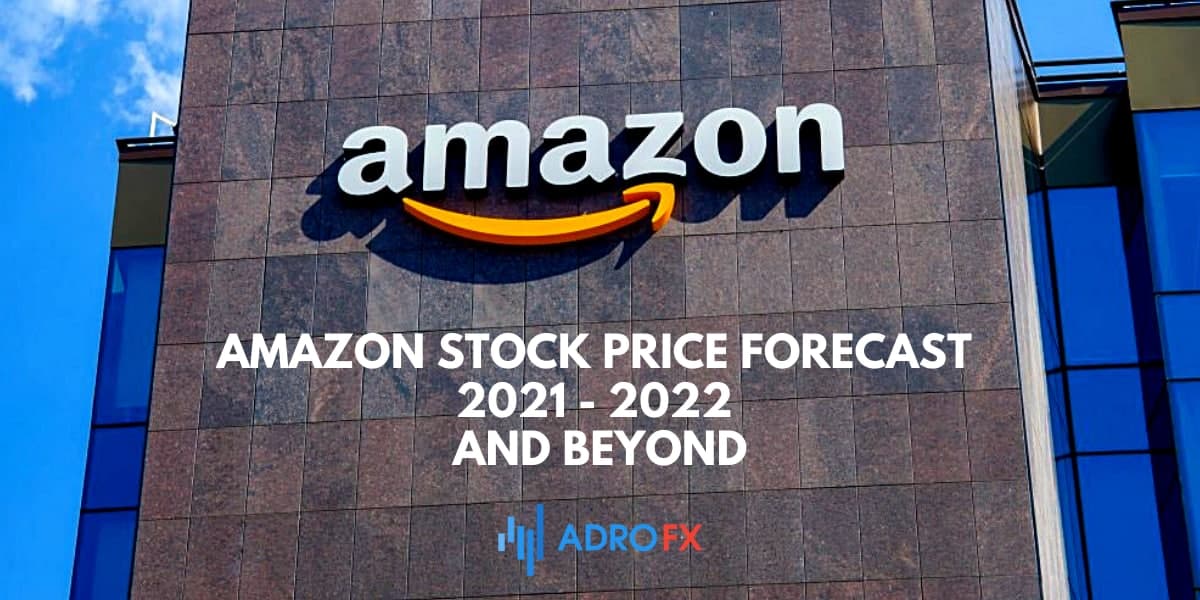 Over the past decade, Amazon has become a household name. Even more, in the history of the stock market, it is one of the best investments. It is not surprising since at the start of the company's work, there was not even such a thing as e-commerce. Amazon was a pioneer in this area.
Today, most traders and investors are wondering what the predictions for Amazon stock are and if it is still a good investment. In this article, we will answer these questions, as well as will look at the price analysis and different factors influencing the quotes.
The company's background
The history of Amazon began in 1994. Now the Internet site offers products in 34 categories. Among them are home appliances, e-books, products for children, sports, home, etc. The company's activities cover many countries, while actively introducing new technologies, such as self-service stores.
The number of subsidiaries of this huge corporation is about 40, including Alexa Internet, Brilliance Audio, Amazon Robotics, and others. At the same time, the company cannot be called a dividend aristocrat, since no dividend payments are made. All profits are used to expand the business and improve business processes.
To expand its position in the streaming video segment, Amazon intends to acquire Metro-Goldwyn-Mayer, an iconic movie studio.
According to analysts, the stock has rallied for years in a row thanks to Amazon Prime. Since 2015, every year in mid-July, Amazon Prime subscribers have had a huge Amazon Prime Day sale. It's bigger than Black Friday.
Amazon's investment in live sports and TV and movie operations is in the billions of dollars. In 2021, the company took advantage of another growth factor: advertising. Half of all American adults turn to Amazon for product searches. In turn, the growth in search queries is fertile ground for advertisers. And, as the coronavirus pandemic has boosted online sales, advertising on Amazon will become increasingly relevant.
According to Needham analyst Laura Martin, advertising will be a powerful catalyst for the company's earnings growth in 2021.
Prime Day's goal is to boost third-party seller sales. In the first quarter of 2021, they accounted for 55% of the online store's sales, and in the first quarter of 2020, the figure was 52%. Given that Amazon charges fees for third-party transactions, third-party sellers generate more revenue for the company than selling items directly on the online site.
The 2020 sales growth (including third-party vendor sales) and advertising boosted the company's retail operating profits by 75%, not including Amazon Web Services. Bargain offers attract customers the most. To get more, users sign up for Prime, which in turn attracts third-party sellers to Amazon and expands the range. More merchandise means more customers. This very efficient cycle generates more profits for the corporation.
All of this contributes to the annual growth of Amazon Prime Day and the growth of the company's share of the online commerce market, which attracts new investors.
The most famous subsidiaries of Amazon include:
Acom, which specializes in the development and introduction of new technologies.
Brilliance Audio, which is engaged in the production of audiobooks.
Amazon Web Services LLC, which specializes in providing a cloud-based service for customers around the world.
Lab126, which develops consumer electronic devices such as the Kindle.
Amazon Robotics, a manufacturer of robots.
Alexa Internet, a web analytics company.
In all, there are now more than 40 subsidiaries owned by Amazon.com, Inc.
Amazon's marketplace is now present in 58 countries across five continents, including China, the United Arab Emirates, Turkey, Singapore, Brazil. Since its birth, Amazon has never stopped expanding geographically, and it is clear that Bezos has a very clear plan: to turn Amazon into a global e-commerce platform.
Many of the markets he has opened in recent years are still in development and are expected to thrive and grow in the coming years, potentially surpassing Amazon US turnover.
It is necessary to emphasize Amazon's desire to include many promising companies under its umbrella. All indications are that Bezos will continue to bring new acquisitions under the Amazon parent company, many of which are startups with great futures.
Amazon is also undertaking a process of horizontal expansion through its marketplace Amazon Business, which already sells B2B goods to large companies such as hospitals, schools, and universities.
Amazon in 2021; Stock Price Today
Amazon shares have always seemed expensive, which has not prevented their price from rising at an incredibly fast pace, increasing shareholders' capital. Amazon's stock price has changed by $12.20 in the last 24 hours. The company's stock price over the past 52 weeks has been in the $2,871.00 to $3,773.08 range. Today, the stock's annualized earnings per share, or P/E, is hovering around 50-60, as it did a year earlier, which, however, has not prevented the company's stock from nearly doubling since March 2020. During the pandemic, Amazon has been able to increase its sales and profits significantly, but can this growth continue long enough to justify a high stock price?
Our analysis indicates that the current price of almost $3200 is a reasonable estimate of future revenue growth of 24% per year over the next five years and a gradual slowing of growth to 4% per year in 2030. At the same time, the company should slightly improve its operating margin from the current 6,68% to 9% p.a. Under these assumptions, the stock price calculated from the company's cash flows is equal to the market price, and the long-term return on shareholder investment should be only 8.4% per annum.
The revenue growth rate built into the market price may be too optimistic a premise. For one thing, the company's revenues have grown faster over the past five years, at about 29% per year. Nevertheless, Amazon's business has already reached a whopping $443 billion in revenue, and future growth at the same rate is only possible through expansion into other retail segments and displacement of the traditional retail format. One such segment is the pharmacy business, but even a complete displacement of players such as CVS and Walgreens could give Amazon only $130 billion in revenue, out of the $750 billion increase required to realize the prerequisites.
Many analysts agree that Amazon's revenue growth in the coming years will be below 20 percent a year. Nevertheless, due to the premise of strong margin growth and the use of high multiples to value the company, they often conclude that the stock is undervalued. Such a forecast can only justify itself if operating margins grow above 11% and revenue growth at a rate of 20% over the next five years. At the current margin of 6.68%, achieving such an indicator may be a challenge for the company - the more marginal segment of cloud services must grow at a rate above 28% per year and maintain an operating margin above 26%. In 2020, the performance of the cloud segment was slightly better than the required prerequisites, but according to analysts' estimates the growth of sales of similar services from Microsoft and Google in 2020 was even higher, and increasing competition will inevitably lead to a decline in the margins of this business.
Buying Amazon shares at current prices, an investor is betting on the realization of rather optimistic assumptions and the continuation of historical trends, despite the already enormous size of the company and the extremely high percentage of penetration of services among the population. If they are realized, the expected return on investment may justify the risk.
Amazon Stock Price Predictions: What Do Experts Say?
According to Jefferies analyst Brent Thill, Amazon.com Inc.'s stock price might skyrocket to $5700 within three years, about 70% of its current level. As a result, the market value of the world's biggest online retailer will almost reach $3 trillion. The expert maintains a "buy" recommendation for Amazon securities, setting a forecast quote at $4,000.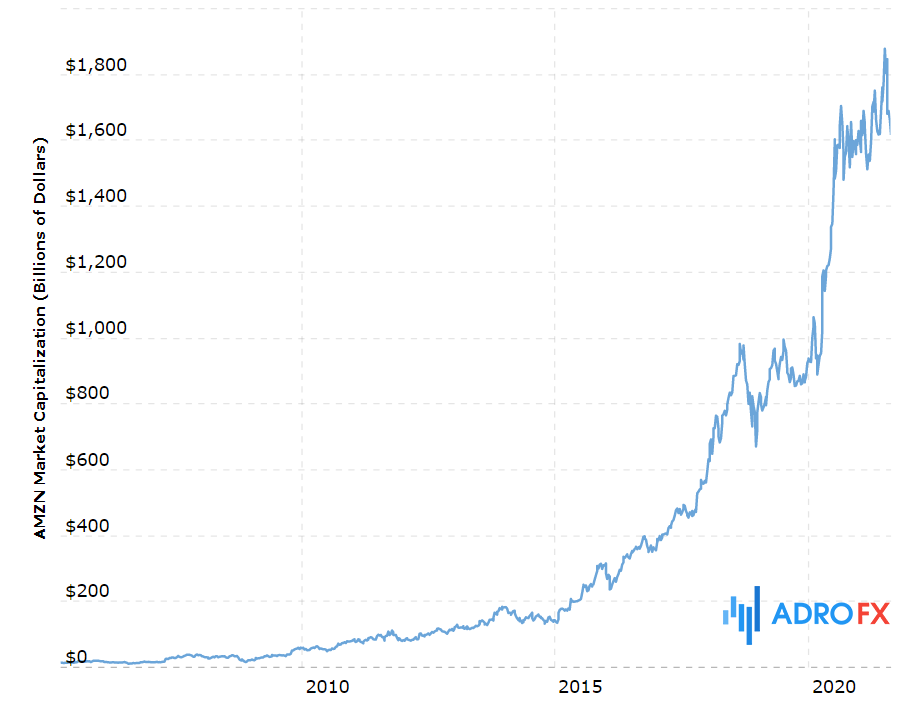 Thill believes that the value of the cloud service Amazon Web Services (AWS), the company's most profitable business, could increase to $1.2 trillion over three years. The value of the core retail business could rise to $1 trillion within three years, the analyst believes, and the advertising business could exceed $600 billion.
A report from JPMorgan says Amazon could surpass Walmart and become the largest retailer in the U.S. by 2022. Amazon's U.S. retail business is the fastest-growing on a broad scale, analysts say. From 2014 to 2020, Amazon grew significantly faster than its main competitor, Walmart, based on gross merchandise volume (GMV), according to the study. Analysts at JPMorgan say Amazon's GMV in 2020 grew 41% to $316 billion, while Walmart's was up 10% year over year to $439 billion.
Analysts said several factors are driving Amazon's revenue growth, including the launch of the grocery and apparel categories, as well as strong sales growth from third-party sellers and the Prime program.
Another valuable forecast is provided by

TipRanks

. The chart given below shows that the average price target is $4214, while the maximum is $5000.
Free cash flow can be distributed to shareholders, spent on acquisitions and prospects. Amazon is still a "growth story," so, as we have mentione, it does not pay dividends. There was no buyback in 2019, either. The company has accumulated $49.3 billion in cash and cash equivalents in its accounts. This will allow the company to launch a buyback if necessary and thereby maintain quotes.
Over the last couple of years, the company has been actively reducing its debt burden. The debt/equity ratio is now less than 70%, which is fairly neutral. Moreover, Amazon has issued $25 billion in bonds.
"For 2020-2021, we're talking about $2 billion in redemptions. About half of the bonds will need to be redeemed after 2030. Interest coverage ratios are above the industry average. So, the risks in this regard are not very high now," say the experts in their analytical report.
However, there are certain risks as well. If we compare EV/EBITDA within the group of technology giants FAANG, we are facing the most "expensive story" within the sample.
"For the appearance of a confident signal for a long-term purchase, forward multiples should decrease, i.e., the forecast on income dynamics should become even more optimistic (which is unlikely) or the shares should adjust," experts warn. Thus, for the stock to become attractive for investors, Amazon's share price is likely to fall.
AMZN Technical Analysis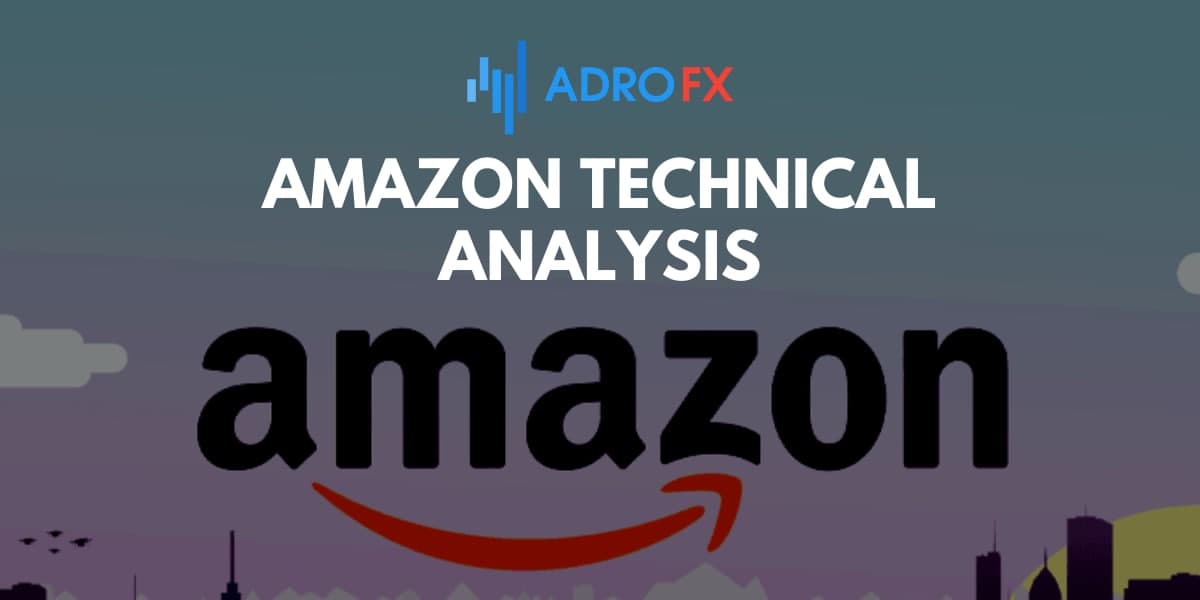 From the technical analysis point of view, we can see the support from the beginning of August 2020, which the price has repeatedly bumped against. In September 2018, the bulls took Amazon to an all-time high of $2546. The goal must have been to take the round figure of $2,500, 50 from the top slipped-on stops and on inertia. At that time, the second peak was drawn in the fall, and according to all the canons of technical analysis, the stock went into a pullback. In December the bulls allowed the price to fall but immediately pulled the quotes up again.
We can assume that the ascending wedge pattern has started to be drawn today (as of the moment of writing). When the bulls and bears get into a position struggle, the fluctuation amplitude and the trading volumes decrease for a while. The up-trend has taken off too sharply, break-down is necessary. At the same time, the probability of long-term up-trend movement for today remains in force. There are all preconditions for it.
Amazon Stock Price Forecast 2022 - 2023
One of the interim Amazon stock predictions comes from Gov Capital. As per its estimates, Gov Capital thinks the company's stock rate could strike about $4058 within one year. If that prediction is correct, people who invest right now will get a 26,8% yield (Gov Capital uses its own deep learning algorithm for its Amazon stock price predictions, which takes into consideration aspects such as market cycles, alike companies, and volume fluctuations).
Gov Capital's average prices are quite optimistic, but for investors wondering "should I add AMZN to my portfolio," its maximum forecasts are even more exciting. Its algorithm gave a maximum price of more than $4666. If this proves to be true, we could see a growth rate of $1500 in just one year. That would be a growth rate of over 46.8%.
Looking beyond 2022, there is near unanimity among Wall Street's top financial analysts when it comes to investing in Amazon. Of the 50 financial analysts surveyed, 48 either recommend buying the company's stock immediately or believe Amazon's stock will outperform its competitors. The remaining two analysts give it a "hold" rating. None of the financial analysts surveyed have a bias against Amazon, which is rare on Wall Street.
According to Statista predictions for Amazon stock, the global e-commerce market could reach $6.5 trillion in 2023, up from $3.5 trillion in 2019. At the same time, the share of online sales in the total volume of retail sales will reach 22%.
Long Term Amazon Stock Forecast 2025 – 2030
So, what are the other long-standing predictions for Amazon stock? According to a report from Needham & Company, Amazon's stock price is likely to rise to $5000 over the long term, possibly within the next several years. Amazon's report estimated a high buy rating and mentioned different circumstances that might contribute to the aforementioned increase, meaning the consequences of the COVID-19 and the increasing demand for its Amazon Web Services (AWS) and its streaming services.
Needham's long-term optimistic scenario is in line with WalletInvestor's Amazon stock price prediction. Going back to this platform to examine its 2025 Amazon stock price predictions, it's clear that $5000 is an achievable goal. By December 2024, WalletInvestor anticipates e-commerce giant to strike the $5441.740 - and predicts it will stay above $6000 through 2025.
The table below shows Amazon's opening, closing, minimum and maximum prices in 2025. Experts foretell that its stock price will likely reach $6174.490 by the end of the year. Given Amazon's growth price ratings for the next four years, that figure suggests stocks could reach $6669.070 by 2026. If that's true, that means Amazon's stock price will almost double in just five years!
Amazon Stock Price History
Amazon's growth rate over the past few years has been incredibly high. But how has Amazon's stock price changed since it went public twenty-two years ago, on May 15, 1997?
Shares were listed on NASDAQ. On average that month, one share could be bought for $2. Within a year, the stock soared eightfold - in June 1998, the value was $16. Another year later, in April 1999, it was $86. Over two years, the price increase was more than 40 times. Those were local maximums to which quotations returned in December 2000 after correction.
After the crisis and deflation of the dot-com bubble happened. Amazon stock also sold off. From the high of $113 in December, the price went down to $6. It was a difficult moment for the company. Nevertheless, the brainchild of Bezos did not go bankrupt and stayed in the market. Moreover, it bought other companies at this time.
In October 2001, the quotes began to recover. But the previous local level of $113 was surpassed by bulls nine years later, in October 2009. In 10 years - from September 2008 to September 2018 - Amazon stock had a fantastic performance for such a heavy and liquid paper: up from $72 to $2003 at the close of the month. Almost 28 times. The company's stock has goldened its investors, who have held on to the stocks all along. In doing so, they did nothing - the rise in Amazon's stock price did everything for them.
The 15-year price increase from May 2004 to May 2019 is even more impressive. By a factor of 38. That's one of the best results in the history of the stock market over an extended period of time. With that kind of growth, you don't need a dividend either.
Each year was more profitable than the previous year, with both Amazon's revenue and its share price steadily rising to unprecedented heights.
From 2016 to 2018, Amazon's average share rate soared from $699.5 to $1,641.7262. That was an increase of nearly $1,000 in just two years, a growth rate that most of the Amazon stock price predictions we will talk about in this article believe we will soon see again.
Also, we cannot but mention that for the last ten years, Amazon's free cash flow (FCF, operating cash flow minus capital expenditures) has been extremely positive, exceeding net income. That was achieved through the effect of depreciation. In recent years, the company has actively invested in logistics centers, which contributed to the growth of capital expenditures.
Factors that Can Affect the Amazon Stock Price

When you buy stocks for short-term profit, it is advisable to analyze the chart of an exchange-traded asset, and then use in your trading system technical indicators and oscillators, which have been previously tested on historical data.
In addition, during trading, it is necessary to conduct a thorough analysis of news about the company's business, the prospects of the high-tech sector in the United States, as well as of the American stock market. It will give a better understanding of when and how to buy Amazon shares and after what time they can be sold at a profit.
If you plan to trade the stock to make a profit in the medium or long term, you need to make a fundamental analysis of the stock and take into account a large amount of information that affects the value of Amazon stock and how it will change in the future.
In particular, it is necessary to predict in advance the possible inflow or outflow of funds from the American stock market, as well as the possible liquidity outflow from stocks to bonds, both on American and other world exchanges. This information can be obtained by studying the chart of the most well-known stock indices. In addition, it is advisable to take into account what the prospects for the high-tech sector of the U.S. economy are and when they can be realized in practice.
Also, the movement of Amazon.com Inc. shares are influenced by the following factors:
The status of the e-commerce market
The e-commerce market is one of the fastest-growing areas in the world. If we refer to studies, global e-commerce sales will reach $6.54 trillion by next year. An increasing rate of our online activity comes from online shopping, and Amazon, as the world's largest name, is the leading business pushing this bias.
The coronavirus outbreak has been a major reason for the up-to-date e-commerce growth. In the third quarter of last year, Amazon stated that its revenue was $96.1 billion, and it expects to earn between $112 and $121 in the Q4. This is because global restrictions have forced an unprecedented number of people to buy everything from groceries to Christmas gifts online. Since Amazon sells almost everything, it has been able to make money from this market boom. Its growth rate for 2020 was sensational: It started the year at just over $1,898 and closed at a predicted $3,201.6500.
Experts assume that humanity's dependence on online shopping is questionable to diminish when the pandemic is left behind. They say that the service of businesses like Amazon will make people proceed with buying groceries online. That will almost certainly increase Amazon's revenue and, therefore, its stock price.
By tracking e-commerce trends, you can find the best time to buy or sell.
Demand for Amazon extras
As we all know, Amazon doesn't just sell merchandise. Its one-day subscription delivery service, Amazon Prime, first launched in the United States in 2005. Two years later, in 2007, it was launched in the United Kingdom, Germany, and Japan. In both of those years, Amazon's share price rose significantly. Between late 2005 and 2009, it rose from $47,1500 to $134,5200 as demand for the service grew.
Amazon Web Services, launched back in 2002, had a similar impact on the company's stock price. At the beginning of the year, it was valued at $16,4817. By the end of 2003, that amount had risen to $52,6200, which shows the impact new releases can have
Investing in new verticals
Just as appending new services to Amazon's offerings can increase its stock price, so can its eagerness to spend in new verticals. Analysts have identified two new markets that Amazon could enter in the next few years: the sale of marijuana products (once fully legalized) and unmanned cars.
Amazon is predicted to add marijuana to its Whole Foods stores and begin using unmanned cars for delivery. The increase in the habit that may result from these decisions is likely to boost its stock price - especially since both moves will be well covered in the world's media.
Conclusion: Are Amazon Stocks A Good Investment?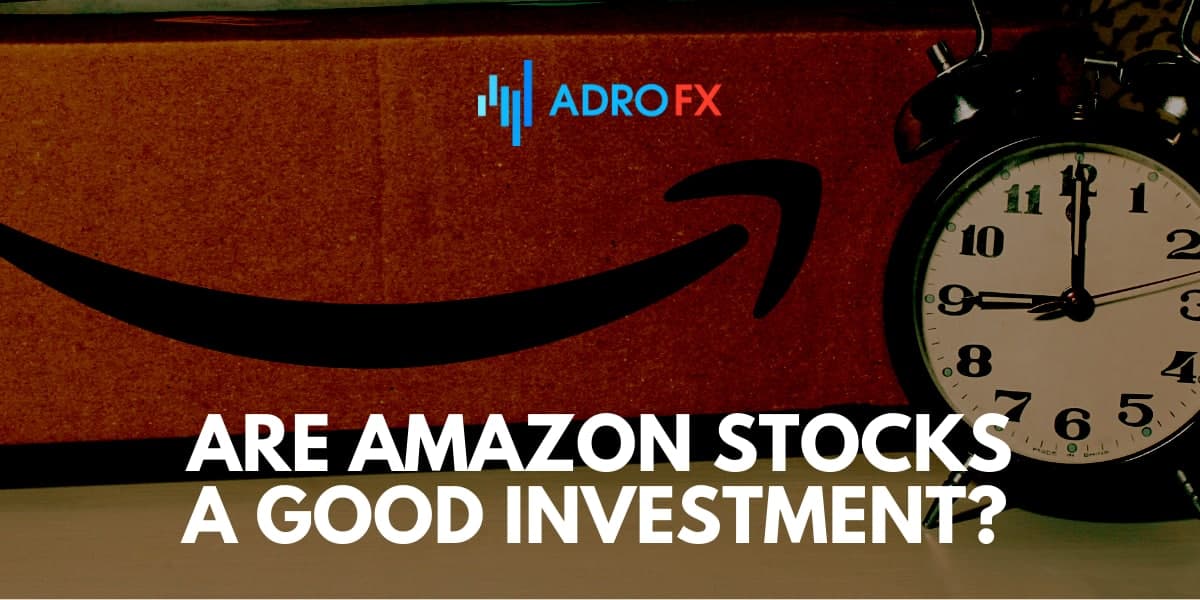 How many times have you asked yourself if it's worth buying Amazon stock? Have you ever wondered if it could move higher? Steady revenue and earnings growth, as well as diversification, may be the reason why it is rarely too late to buy Amazon stocks.
E-commerce in the U.S. is gaining momentum, even though more and more people can shop the traditional way as the pace of vaccination rises. The volume of shopping on Amazon increased significantly in 2020, but the trend continues. However, the percentage of retail e-commerce in total volume was only 15%.
That percentage could grow significantly, allowing the company to grow aggressively. Throughout its years of existence, Amazon has managed to grow its share of online sales even as the competition has grown. The "network effect" and Prime and Fulfilled by Amazon programs have greatly contributed to this.
Third-party sellers provide the bulk of the sales growth, while warehouses and logistics networks help ensure fast delivery to Prime customers. In the future, the company's total sales may grow more aggressively than its total online commerce sales.
The technical picture for this tech giant is also favorable for buying. The stock is at the beginning of a new wave of growth, which promises to send it to new heights. After the boundary of $3,700, the asset will be able to rise to $4,200 without any problems. Though, we would recommend putting this security into the "buy and not sell" category.
Amazon Stock Prediction FAQs
Is Amazon still a buy?
As per different short- and long-term projections, this e-commerce behemoth is probably a good buy. The majority of experts acknowledge that it is not a stock to buy for a quick profit. Investing in AMZN could be a great long-term position, as the price is expected to rise in the future. Selling too early could make some investors regret it.
Is Amazon stock overvalued?
No, according to most analysts, Amazon stock is not overvalued. The current price is about $3200, and many analysts say it is trading at a discount, which makes it a perfect entry point.
Will Amazon pay a dividend?
Whether you're a current or potential investor, it's worth noting that Amazon has never yet paid a dividend.
Is it the perfect time to add Amazon to the portfolio?
As can be seen from all the predictions we have discussed above, now is a good time to invest in Amazon. The projected growth over the next few years (as a result of the coronavirus pandemic) suggests that investors can potentially benefit from rising stock prices.
Is it too late to invest in Amazon?
Amazon shares cost $18 in 1997, then $170 right ten years ago, and now over $3000. Many investors did not buy them because they thought it was too late. For now, the forecast is optimistic, so do not repeat the same mistake.
Why doesn't Amazon pay any dividend?
Amazon does not pay dividends (even though it is a profitable company) because it prefers to employ the funds to keep developing. Many argue that as long as Jeff Bezos is around, there will be no dividends. He recently stepped down, so maybe, the reward will come one day.
About AdroFx
Being a well-established brokerage company, AdroFx offers the best trading conditions on the market to its clients from 200 countries. Founded by experts with a couple of decades of the overall experience, AdroFx is one of the best platforms on the market for shares trading, including Amazon. Either a newbie or experienced trader, both will find here what they are looking for since the company provides various trading accounts tailored for different trading styles and financial goals.